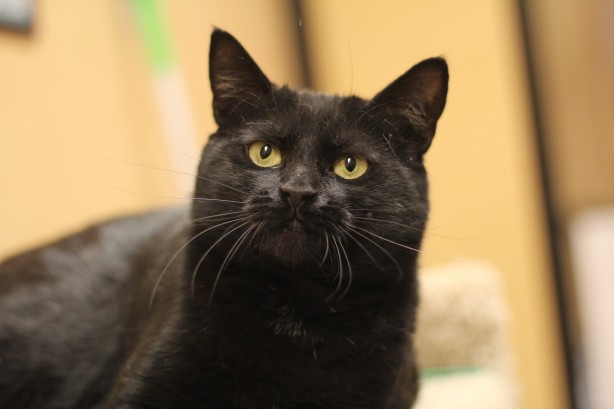 Gypsy has finally gone home!
Four years ago, Gypsy was abandoned and left to fend for herself outside a local motel.  She searched for the family that abandoned her, hoping they might come back to find her. But they never did.  For the next three years, Gypsy would live outside, foraging for food, giving birth to many litters of kittens, and not knowing the security or love that comes from being in a forever home. The motel guests and employees tried to do what they could, but her life changed when an extended stay guest called CARE to take her into foster care.  She was so happy to be rescued and taken care of.  She loves attention and can't seem to get enough. She plays like a kitten and rolls over when she sees you because she is so happy.
Gyspy has been searching for her perfect family in foster care for one year now, longer than all the other cats this past year with CARE.   She might not be a sought after kitten anymore, she might look like an ordinary black cat at first glance, and she is not an exotic Maine Coon or a blue-eyed Siamese, but her personality is anything but ordinary.  She deserves the best forever home, if only someone was kind enough to look past the kittens and see the beautiful soul that she is.  Please give Gypsy the chance she's been waiting for all her life.  She's one rescue cat that will give back to you forever.
Please apply online and ask her foster Sandy all about Gypsy.